Nollywood actressTonto Dikeh allegedly pregnant for a new found love, Prince Kpokpogri
Actress Tonto Dikeh recently was discovered online by straightnewsonline.com that she has a new lover who is a Politician in the person of Prince Kpokpogri. According to our sources, not long after it is alleged that she is pregnant for him.
The two has snapped a happy mood picture in a grand style. However, her new love life has attracted the reactions and seemingly jealousy of her former bestie, 'Bobrisky'.
The actress already has one child with her ex-husband Olakunle Churchill. Additionally, the two from our sources are getting married anytime from now.
"Mrs always depressed,fake life dey her body
" – Bobrisky reacts to
former bestie, Tonto Dikeh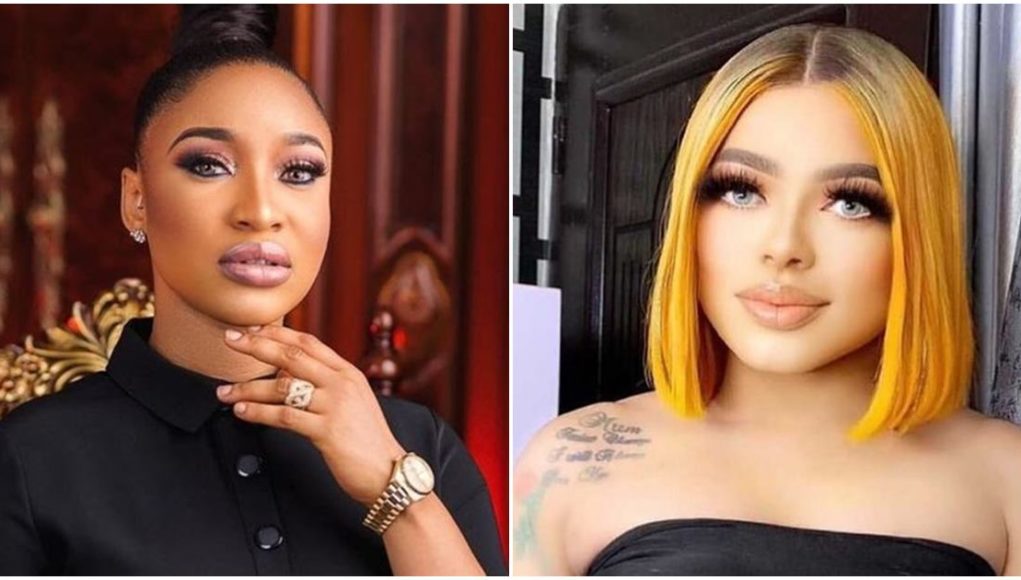 A Nigerian transgender, Idris Okunneye who is widely known as Bobrisky and a former bestie of Nigerian actress Tonto Dikeh has reacted after Tonto Dikeh lover Prince Kpokpogri  was made known online with wonderful photos of the two. Bobrisky in more diplomatic way described Tonto Dikeh as  "Mrs always depressed,fake life dey her body".
The cross dresser added in an Instagram post whether the actress will learn.
Read the full content of the Instagram post here;
"There you go again, Mrs always depressed. Fake life dey her body. Wonder when she will learn. They only post what people want to see. They will never post what they suffer indoor. I'm done with Instagram Damn".
Well, whatever differences exit between the two should be resolved amicably.
I am"no longer a pig, don't associate with the mud"- Tonto Dikeh replies Bobrisky
Tonto Dikeh in reactions to Bobrisky responses to her love life says he is not an angel to give her advice and that she is not a pig to continue to wallow in mud.
Seemingly, the actress love life has generated a lot of reactions from Bobrisky and other personalities some of whom are pieces of advice, others are excitement and sheer jealously.
Below are the instagram posts of the two hitting back and forth at each other;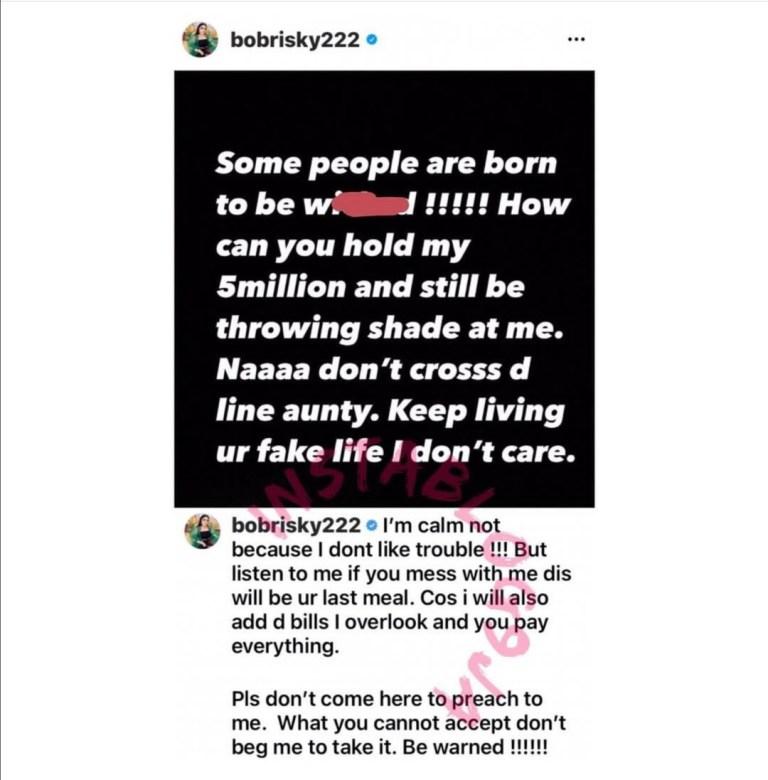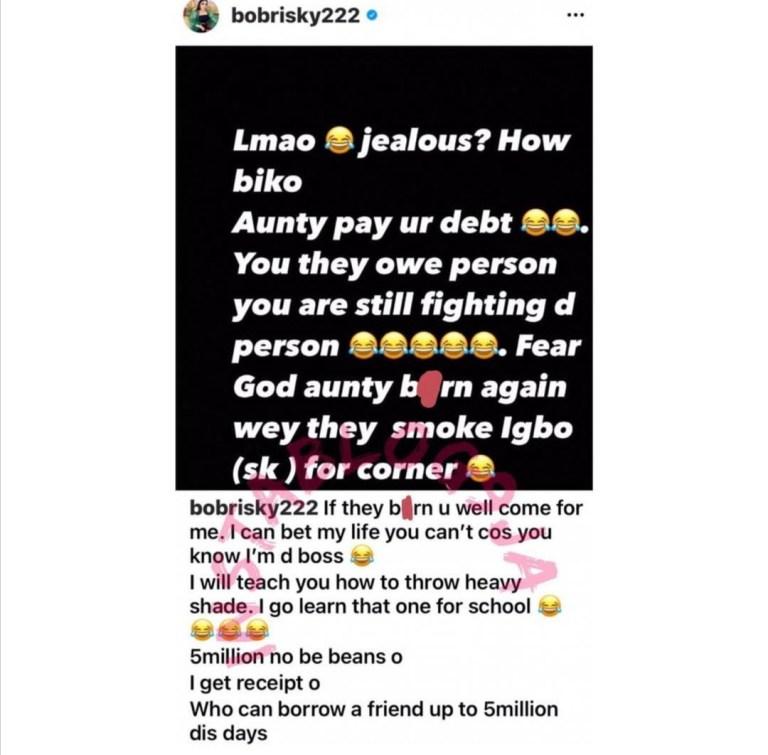 Below is Tonto Dikeh's response: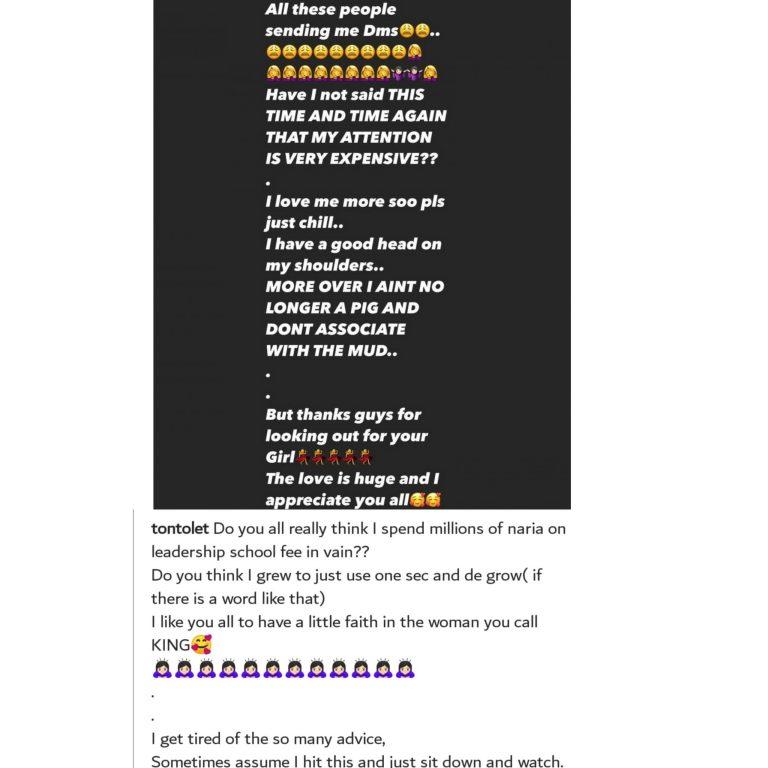 Ladipo also offered advice to Nollywood actress Tonto Dikeh that she should keep her love life from online and that she should learn from her previous relationship with her ex-husband, Churchill making her new love known online. In reactions to what Ladipo wrote Tonto replies indicates that her Ladipo is not her counselor and that she must stop trying to invade her personal life this way.
The actress replied saying "madam long mouth sit down somewhere, your opinion is not needed"
Read the full deatails here;
"@shadeladipo MOTIVATIONAL speaker madam go and SEAT down some where.. MADAM LONG MOUTH…. like you need to speak on every matter.. Who the hell putting shit in your face? Look at a grown woman trying to tell. A grown woman how to live her life. Girl take several seats back, THIS AINT YOUR SHOW… Your opinion is Not neeeded
NOW REST CLOUTINUS If you like me so much shut the fuvk up and Pray For me"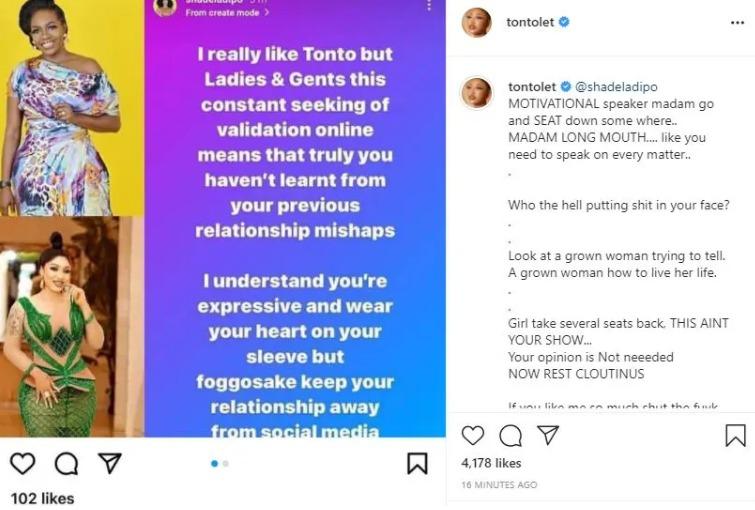 Please follow and like us: